Drs. Hales and Shaffer Honored With 2022 Wilson Award
Drs. Erin Hales and Sarah Shaffer are the recipients of the 2022 James M. Wilson Award. This award recognizes graduate students or UC Davis veterinary hospital residents who significantly advance equine health through publication of the year's most outstanding research reports.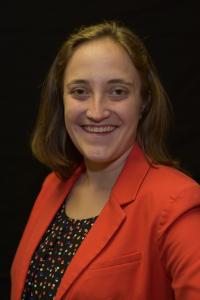 Dr. Hales was chosen for her publication "Postmortem diagnoses of spinal ataxia in 316 horses in California," published in the Journal of the American Veterinary Medical Association (2021, 258(12): 1386-93). Dr. Shaffer was honored for her publication "In vitro motions of the medial and lateral proximal sesamoid bones under mid-stance load conditions are consistent with racehorse fracture configuration," published in the Journal of Biomechanics (2022, 130:110888).
Dr. Hales completed her PhD in animal biology at UC Davis under the mentorship of Dr. Carrie Finno. Her graduate work focused on equine neuroaxonal dystrophy/equine degenerative myeloencephalopathy (eNAD/EDM), an inherited neurodegenerative disorder linked to a vitamin E deficiency. She currently works in the field of personalized medicine at SomaLogic. 
Her publication evaluated diagnoses of ataxia, or lack of coordination during movement, at post-mortem examination over 12 years in California. Her research identified cervical vertebral compressive myelopathy (CVCM or wobblers), eNAD/EDM, and trauma as the leading causes of diagnosable ataxia. These results have given veterinarians some insight into which disease may be affecting an ataxic horse in their care.
"Dr. Hales' publication reflects a tremendous collaboration between clinicians and pathologists to carefully review medical records and determine the top causes of spinal cord disease in California," said Dr. Finno. "By providing data on which diseases are most likely to occur in which breeds, this study has a significant clinical impact."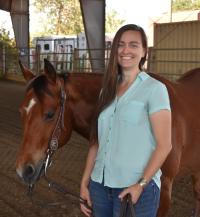 Dr. Shaffer completed her PhD in mechanical and aerospace engineering at UC Davis at the J.D. Wheat Veterinary Orthopedics Research Laboratory under the supervision of Drs. Susan Stover and David Fyhrie. Her research focused on how proximal sesamoid bone (PSB) fractures develop in racehorses. The PSBs are bones in the forelimbs and PSB fracture accounts for nearly 50% of U.S. racehorse deaths. As a postdoctoral researcher, Dr. Shaffer continues to focus on the biomechanical causes of PSB fractures. 
Dr. Shaffer's research helps explain the relationship between PSB fracture, internal biological changes in PSB morphology in response to mechanical loading, and racehorse training and racing history. She is creating a model to predict how race training influences PSB fracture risk. Dr. Shaffer has a lifelong interest in horses and hopes to continue working in equine biomechanics.
"Dr. Shaffer's publication reflects an engineer scientist and accomplished horsewoman making a significant contribution to racehorse welfare," said Dr. Stover. "Building on her work that elucidated the microscopic events leading to PSB fracture, this study discovered biomechanical factors that should be investigated to prevent PSB fracture."
Congratulations on this well-deserved honor!