Equine Neurology at UC Davis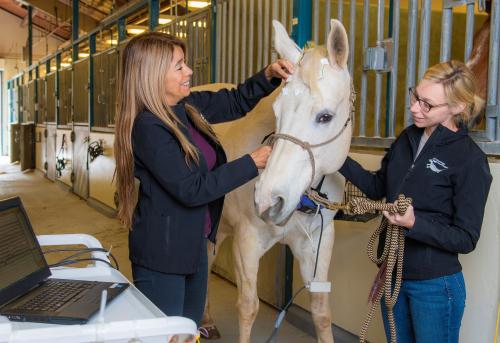 Equine neurology at the UC Davis veterinary hospital is part of the equine internal medicine service. Available neurology-related services include comprehensive neurologic examinations, cerebrospinal fluid collections, myelograms, CT scans, brain wave (ECG), electromyography (EMG), and slinging capabilities for horses that are unable to stand unassisted. Diagnostics and treatments for neurological conditions are aided by UC Davis's wide range of in-house testing capabilities and pharmaceutical service.
Board-certified in large animal neurology and neurosurgery, UC Davis equine neurologist Dr. Monica Aleman is specially trained to diagnose and treat a variety of conditions, providing a comprehensive approach to managing diseases of the equine nervous system. As one of the only clinics with a 
board-certified equine neurologist, UC Davis is proud to offer this 
unique expertise to our clients and referring veterinarians.
Dr. Aleman, along with other UC Davis faculty, also actively conducts research in neurology, neuromuscular and muscle disorders. Additionally, Dr. Finno is actively conducting research into the underlying genetic cause for some of these neurologic disorders. These researchers work closely with the UC Davis Veterinary Center for Clinical Trials to continue to advance knowledge in the field of equine neurology.