Sarah Shaffer Receives 2021 Wilson Award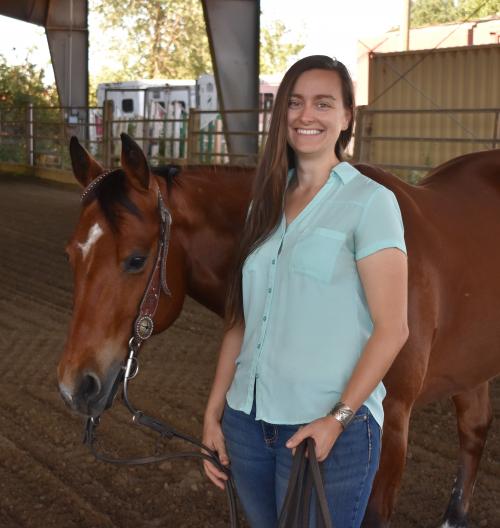 Sarah Shaffer received the 2021 James M. Wilson Award, which recognizes a graduate student or resident who significantly advances equine health through publication of the year's most outstanding research report. Shaffer, a Ph.D. candidate in mechanical engineering, was chosen for her publication entitled, "Subchondral focal osteopenia associated with proximal sesamoid bone fracture in Thoroughbred racehorses," published in the Equine Veterinary Journal.  Her research was conducted at the J.D. Wheat Veterinary Orthopedics Research Laboratory under the direction of  Dr. Susan Stover. 
The most common cause of fatal injury among California Thoroughbred racehorses is proximal sesamoid bone (PSB) fracture. The PSBs are a pair of bones in the suspensory apparatus that support the back of the fetlock joint. When they fracture, the fetlock loses support and the horse cannot bear weight on the limb. These fractures are related to stress fractures and occur because the bones are unable to repair accumulated microdamage caused by repetitive high loads. Normally, damage is continually repaired by removal and replacement of damaged bone. However, when bone removal is faster than replacement, temporary bone loss can create weakness and susceptibility to fracture. 
Until recently, there was no way to identify horses at risk for PSB fracture. This study discovered, characterized, and described changes that precede PSB fracture and put horses at risk for catastrophic fracture. Shaffer examined PSBs from racehorses that died due to PSB fracture during racing or training using microcomputed tomography, high-detail x-rays, tissue stains and other techniques. A bone bruise was observed below the joint surface that was not present in unaffected horses. This lesion showed a region of bone loss and evidence of high levels of microdamage.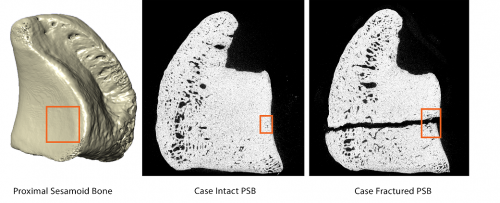 These typical stress fracture characteristics provide guidance to veterinarians for injury prevention (via screening) and treatment. With the concurrent introduction of positron emission tomography (PET) scanning of the PSBs, the changes discovered allow affected horses to be identified and rehabilitated for return to training and competition. 
"Sarah's research findings were key to developing injury prevention strategies that contributed to the 41% reduction  in California racehorse fatalities over the previous year," said Stover. "Knowledge of the warning signs of imminent catastrophic fetlock injury allow for detection of affected racehorses and their rehabilitation – saving horse lives and preventing jockey injuries associated with racehorse falls."
Shaffer's work also contributed to the California Thoroughbred Foundation awarding her the 2019 Louis R. Rowan Fellowship. A lifelong equestrian, Shaffer holds a National Reining Horse Association Youth World Title and multiple top 10 placings  at the American Quarter Horse Congress in reining with her Quarter Horse, Roostamatic (a.k.a. Beau). "I have enjoyed working with veterinarians, pathologists, and engineers to further our understanding of racehorse PSBs," she said. "Coming from a background where I showed reining horses at a national level, it has been especially rewarding to work on a project that helps to improve horse welfare." 
Shaffer plans to work as a postdoctoral researcher at UC Davis and eventually hopes to continue in the equine biomechanics field as a professor at a research institution.