UC Davis Offers the Latest Advances in Equine Joint Therapies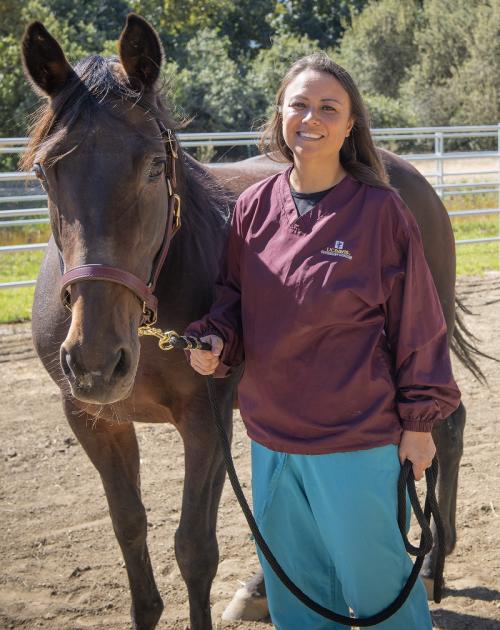 The Transfusion Medicine Service at the UC Davis veterinary hospital provides an array of specialized blood products for many species in addition to horses, including dogs, cats, cows, llamas, sheep, goats, and pigs. More than 800 transfusions take place at the veterinary hospital annually. In 2020, 93 horses received 143 units (each unit is approximately one liter) of whole blood or blood product.
Through this service, the veterinary hospital also offers different options for equine joint therapy, all of which are made using the horse's own blood, including: 
Interleukin-1 Receptor Antagonist II (IRAP II) – The preparation of this biologic stimulates the production of regenerative and anti-inflammatory proteins, among others. An incubation period of approximately 24 hours is required before the product is ready for administration. However, once processed, IRAP can be safely stored and used for future injections for up to one year.
Platelet Rich Plasma (PRP) – Platelets are concentrated and are able to release increased concentrations of growth factors to reduce inflammation and aid in the healing process. 
ProStride – Contains a higher concentration of platelets and an increased concentration of IRAP. Both PRP and ProStride take approximately 30 minutes to process, so the treatment can happen the same day the horse is seen at the veterinary hospital.
"The services offered at UC Davis are unique because most clinics have only one of these options," said Dr. Julie Burges, manager of the UC Davis veterinary hospital Diagnostic Services Laboratory. "Our equine clinicians have all three options at their fingertips and can choose the best treatment for their patient."
To learn more, or to schedule an appointment with an equine clinician, please contact the UC Davis veterinary hospital large animal clinic at (530) 752-0290.